Guo Jingming tops rich writers' list
Updated: 2011-11-22 08:01
By Mei Jia (China Daily)
BEIJING - An icon to teenagers, Guo Jingming, 28, shines with his wealth again, by topping the Rich List of Chinese Writers, 2011, having earned 24.5 million yuan ($3.85 million) in copyright fee.
Colombian writer Gabriel Garcia Marquez is Guo's foreign counterpart to have earned the most in the mainland's book market, totting up 11 million yuan.
The lists, published on Monday, show top 30 Chinese writers in terms of copyright income, as well as the top 15 foreign writers with maximum earnings in China.
The second and third names on the Chinese writers' list are Nanpai Sanshu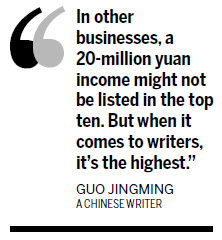 (penname), who has earned a reputation from writing online and "King of Fairy Tales" Zheng Yuanjie. Britain's J.K. Rowling and Austrian Thomas Brezina finish second and third on the foreign writers' list.
Wu Huaiyao, who has been drawing up these lists for six years, told China Daily on Monday that these worked as an index and also a mirror of the reading scene of the country.
"I found that the publishing market has shrunk compared to previous years, for lack of a super bestseller," Wu said. "But young readers, from 6 to 18, remain the majority of Chinese readers and consumers of books."