Blue Peter asks children to choose 'the best book of the decade'
As a BBC poll is launched to find the best children's book of the decade, who would you vote for? Email us at childrens.books@guardian.co.uk and we'll print your responses below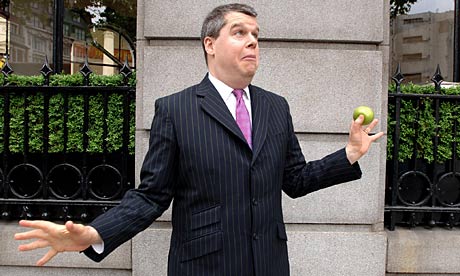 An unusual children's books poll is pitching the bestselling authors of last 10 years, from JK Rowling and Michael Morpurgo to Lemony Snicket and Charlie Higson, against each other to find the "best children's book of the decade".
The Blue Peter-run prize will be determined by an online poll based on a shortlist made up of the 10 bestselling fiction books of the last 10 years for 5─11 year olds with a first publication date between January 2002 and December 2011. Only the top-selling book per individual, named author is included.
The shortlist will be featured on Blue Peter's website bbc.co.uk/bluepeter for three weeks, during which time children under the age of 16 can log on with their BBC iD and vote for their favourite. The vote will close at 4pm on Thursday 23 February.
In the running are three children's laureates – Jacqueline Wilson (Candyfloss), Michael Morpurgo (Private Peaceful) and Quentin Blake (for his illustrations of Mr Stink by David Walliams) – and three American authors – John Grisham, Lemony Snicket and Jeff Kinney. Boys' adventure stories are well represented by volumes from Anthony Horowitz's Alex Rider series and Charlie Higson's Young Bond. Younger readers have their place with Francesca Simon's Horrid Henry. Britain's richest author shows up with Harry Potter and the Order of the Phoenix.
Many of the authors expressed their delight at being on the list by referring to the BBC TV show's most famous honour.
"I'm utterly delighted that Candyfloss is on this Blue Peter shortlist for the best children's book of the last 10 years. I love Blue Peter and my most treasured piece of jewellery is my special gold Blue Peter badge," said Jacqueline Wilson. Charlie Higson asked, "Will James Bond get his own Blue Peter badge?"
However, Lemony Snicket commented, "I was shocked and dismayed to learn the Blue Peter is encouraging its viewers to read my book The Austere Academy. As with all of the volumes of A Series of Unfortunate Events, The Austere Academy is a distressing and depressing story, and anyone foolhardy enough to take Blue Peter's suggestion and read The Austere Academy will find themselves even more miserable and lonely than the citizens of the UK already are."
The winning book will be announced on Blue Peter on 1 March alongside the winner of the annual Blue Peter Book of the Year award on a special show for World Book Day.
The 10 books in full
Alex Rider Mission 3: Skeleton Key by Anthony Horowitz (Walker Books, 2002)
The Series of Unfortunate Events: Austere Academy by Lemony Snicket (Egmont Books, 2002)
Private Peaceful by Michael Morpurgo (HarperCollins Children's Books, 2003)
Harry Potter and the Order of the Phoenix by JK Rowling (Bloomsbury, 2003)
Young Bond: SilverFin ─ A James Bond Adventure by Charlie Higson (Puffin, 2005)
Candyfloss by Jacqueline Wilson, illustrated by Nick Sharratt (Random House Children's Books, 2006)
Horrid Henry and the Football Fiend by Francesca Simon, illustrated by Tony Ross (Orion Children's Books, 2006)
Diary of a Wimpy Kid by Jeff Kinney (Puffin, 2008)
Mr Stink by David Walliams, illustrated by Quentin Blake (HarperCollins Children's Books, 2009)
Theodore Boone by John Grisham (Hodder & Stoughton, 2010)