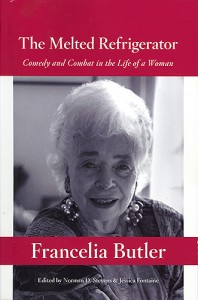 Compiled from over 40 versions of her autobiography collected at the Thomas J. Dodd Research Center at the University of Connecticut,
The Melted Refrigerator: Comedy and Combat in the Life of a Woman
has just been released this week and details the innumerable accomplishments and memories of Francelia Butler. The field of Children's Literature owes much to this remarkable woman who played a major role in placing Children's Lit on the map of academic scholarship, including creating the journal
Children's Literature
(originally titled
The Great Excluded
), and serving as a founding director of the Children's Literature Association in 1972. Its release is perfectly timed with the centennial of her birthday, and it also acts as a spirited precursor to the Children's Literature Association Conference that is just over a month away.
The book is described as being "a delicious, magical, moveable feast" richly filled with Butler's memories and adventures. It currently can be found at the
UConn
and
Harvard
Bookstores.
You can read more about the creation of the book, and of Butler's enormous presence in UConn and academia,
here.