Back in September I talked about the rise of a new cartoon series in Pakistan,
the Burka Avenger
. It now looks like the female empowerment movement has rubbed off on the world of US Comic-verse.
Marvel Comics is introducing a new teenage superhero,
who happens to be Muslim-American.
Kamala Khan, aka Ms. Marvel, emerged from amusing life-experience stories of Sana Amanat, an editor at Marvel. She and a peer approached acclaimed graphic-novel and recent novel writer
G. Willow Wilson
to pen the character. I've never read any of Wilson's works (I'm largely unfamiliar with comics in general, but I have been wanting to get my hands on her debut novel
Alif the Unseen
). Still, I always perk up at the revelation of a new multicultural text, particular a Muslim-American girl-centered one. While some cultures can attest to an enormous amount of literature including, addressing, or focusing on them (whether or not they get recognized by the mainstream public), the Muslim-American identity still exists on the fringe. It has only been in the last decade or so that children's/YA books have been coming up from Western countries dealing with kids of various Islamic backgrounds. And even of those, not too many from the US as yet.
So this is exciting news! And since she is Pakistani American, I feel a second step closer to the experience meant to be exposed. People who exist in some capacity "on the outside" usually want to find a way to fit in, and to see that unfold via the nature of the superhero should be interesting, and an excellent opportunity to connect with teens searching for an identifiable subject in literature. Still, one hopes it does not stray too far into stereotyped territory. According to the
New York Times
article linked above:
Kamala will face struggles outside her own head, including conflicts close to home. "Her brother is extremely conservative," Ms. Amanat said. "Her mom is paranoid that she's going to touch a boy and get pregnant. Her father wants her to concentrate on her studies and become a doctor." Next to those challenges, fighting supervillains may be a respite.
But Wilson is quick to point out:
"It was really important for me to portray Kamala as someone who is struggling with her faith." The series, Ms. Wilson said, would deal with how familial and religious edicts mesh with super-heroics, which can require rules to be broken.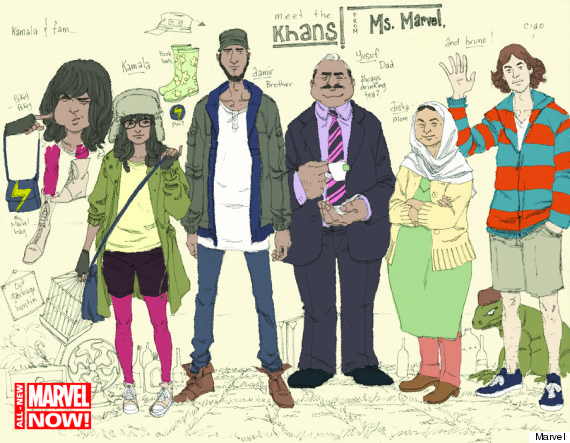 My concern lies in how authentic these struggles
remain
, if they can consistently ring true as the general isolation felt by teenagers all over, and if at some point the character's story becomes more than just a plot device. In other words, of course this girl's tale will unfold as a battle within her own heart and mind as much as with villains and her parents, but I'm most excited to see when a Muslim-American identity will eventually become a steady presence, such that it doesn't need constant defining and centrality to a text (can it ever be viewed as part of the 'norm'?). But I'm really getting ahead of myself here. For now, I think I'll just live vicariously through this young woman who gets to shape shift and startle evil doers with her amorphous identity.