The Upstanders Award Goes to Ghetto Cowboy!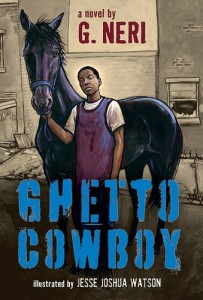 This past weekend, the Fifth Annual Horace Mann Upstanders Book Award was given to G. (Greg) Neri for his middle grade novel Ghetto Cowboy. The ceremony took place at the Wildwood Elementary School in Los Angeles, and along with Neri two other people were honored. Father Greg Boyle, founder of Homeboy Industries and author of Tattoos on My Heart, received the Community Upstander Award. Sam Swope, author of The Araboolies of Liberty Street and other titles for young people, received a Lifetime Achievement Award.
The main event, however, was the annual Book Award, which honors the outstanding children's book (picture book or middle grade) published in the previous year "that best exemplifies the ideals of social action and in turn encourages young readers to become agents of change themselves." The award was established in 2008 by J. Cynthia McDermott, the chair of the Education Department at Antioch University Los Angeles to honor "upstander" characters in fiction who can serve as role models for readers.